Wow, you guys (and gals) are really on top of your game this season. It only took 1 day for someone to notice my inability to spell players' names correctly which totally scrambled the standings. It probably helped that it was a Brewer home run that wasn't showing up since we have so many Brewer fans keeping tabs on the Home Run Derby.
That's not where the credit ends for this group of baseball fans. Within a matter of 3 days, I've received more recommendations for sharing certain baseball stories than I have received in the past 5 years. I really enjoy getting recommendations for posting and sharing with everyone else, whether the recommendations make it into a full blown story or just an embedded link. Such as this great photo and story of Hank the Dog enjoying some Miller Park hot dogs.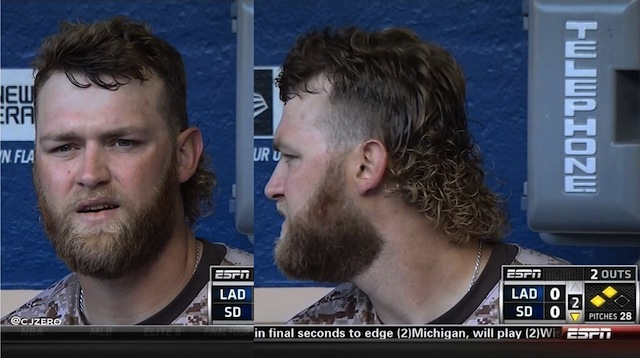 Or this great Twins clubhouse prank for March Madness. And this unbelievable photo of Andrew Cashner's magnificent hairdo. So, keep those links coming into The Commish's inbox.
But let's talk about the two under performing teams in the NL East and how they may have lost even more fans on opening day.
Mets Opening Day Is A Circus… Literally
What should have been a short trip to the park for most New Yorkers, turned into an opening day nightmare. With the Cirque Du Soleil eating up Citi Field's parking lot, fans spent HOURS weaving in and out around the stadium trying to find a place to park. And most of them didn't make it into the stadium to see the opening pitch, which is why the game looked so empty in the first inning like a college football student section still pregaming at kickoff.

What was the Mets organization thinking? Did they forget the traveling circus was in town? Were they confused when fans called the 2013 Mets a giant circus? Did they think Ike Davis could be the next bearded lady? I'm just dumbfounded on what the Citi Field scheduler was doing the day they booked the circus for Opening Day, or the same weekend, or whatever.

I would be livid if that happened to me at an opening day. Granted, if it were Brewer Opening Day, I would be on a Bar bus to a huge tented tailgate with leftover St.Patty's Day kegs (or at least in the parking lot 5 hrs before the game started for tailgating). But seriously, if I were a Mets fan, I would be thinking twice before going back for another live game. Sitting at home, with cold beer in the fridge, and better than front row seats on TV, sounds a WHOLE LOT better than sitting in traffic with tickets listening to the first 100 pitches on the radio.
Marlins Ownership Is Clueless On Running A Business
So how can a team screw up worse than the Mets on opening day? Let's take a look at the team that's well known for their 'spend a ton, then fire sale' management style and what the ownership was saying about his 'loyal' fans. That's right I'm talking about the Miami Marlins. Yes the same Marlins that just built a new stadium yet averages just over 19,000 fans per game. The same team that hasn't had a winning season since 2009 (although their record is currently a winning one). The same one that hasn't won 70 games in either of the past 2 seasons. How Miami still has a team just baffles me (although not as baffling as Tampa Bay who has a winning team but a lower attendance than Miami).

What's really confusing is how they have any fans at all after the team president keeps making certain comments to the public. My favorite in the past few months was in his publicized Survivor biography where he states, "Personal Claim to Fame: Got local government in Miami to contribute over 350 million dollars to a new baseball park during the recession." WHAAAAAAAAAT?!

Who would say a thing like that? Oh, I know, the same guy that accuses his own fans… his customers… for poor transportation planning, for slow concession lines, for being fans. Has he never been in business before? I even know the saying 'The Customer is always right'. It doesn't mean they are right, but give the fans/customers the respect and gratitude for being fans of a horrible team. Take accountability for not expecting 35,000 fans when your average is 19,500 fans. Lesson learned? Probably not because he obviously learned nothing on the 3 days he was on Survivor this year.