I've said this for years, but I will say it again… Oakland has some of the best fans in baseball.
And why wouldn't they? Billy Beane has built a winning team from chump change and always gives the fans a competing team. But it also takes personality to become great fans.
For instance, take Ian Sagabaen… aka Greatest Sign Maker. He's a graphic designer and diehard A's fan. And for the past several seasons, he's been creating some of the greatest signs anyone will ever see at a game. In fact, he's so talented that he's been featured several times on MLB and even had a behind the scenes look at his awesome sign making.
But it takes more than just fans like Ian to create a fan base. You need players with personality as well. Take Coco Crisp. He's always had personality… just look at that 'fro of hair. But what he started in Oakland turned into a crazed ritual. After a big play the Oakland players started to do the Bernie lean from weekend at Bernie's, and the fans latched onto it and ran.

It got so popular that not only did they make an official music video (what defines 'official' music video anyways?), but eventually they made a Coco Crisp Bernie Lean bobblehead.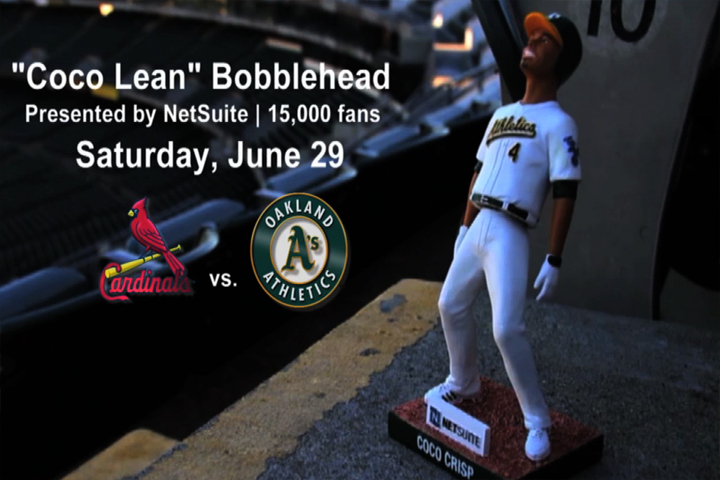 But it's a new season so the A's need a new character. Cue Josh Reddick, his slump, and his walk-up music.
Reddick has been bad this season. Some of you may know this because you chose him in the Home Run Derby. So, he requested his walk up music be changed hoping to spark a fire under his bat. And you know what, his bat seems to like the sweet slow jams of Wham's "Careless Whisper". And not only his bat, but the fans too…

He's so red hot the last week that he is now 6-for-15 with 3 home runs and 9 rbi's since adopting the sweet tune.
What's crazy is even fantasy advice is recognizing this and attributing his success to the music:

My favorite part of the video highlights of his Wham walk up music is probably the fan base jamming out with him as he came to the plate again. You know the diehard fans will be downloading this song just so they can pre/post-game celebrate to it. I would guess that if you monitored song downloads carefully, you would see a big uptick in "Careless Whisper" downloads in the next week. And I bet Sean Doolittle is one of them:
I have that one Wham! song stuck in my head. The one with the saxophone. You know the one. http://t.co/jDO9cDP5qo

— Sean Doolittle (@whatwouldDOOdo) May 14, 2014